The Rhinestone Wedding Chapel is Music City's Premier Destination Wedding Chapel in Nashville, Tennessee! Featuring Elvis Weddings, Traditional Ceremonies & Renewals!
WE ARE PERFORMING Traditional & Elvis Weddings at the Best Destination Wedding Chapel in Nashville! Yes, we are having more Quarantine Weddings; whoever thought that phrase would be coined and yet here we are, Weddings & Receptions strong! The Rhinestone Wedding Chapel is more than ready for you both to say I Do at our Chapel of Love! Our Wedding Packages reflect our current Wedding Guests' Capacity to ensure to be on point with our Local and State requirements, as well as a few Social Distancing protocols we have also put in place for your benefit as well as your Guests and our Staff. We clean high contact areas between Ceremonies, and our new location has AMAZING Settings to allow for space between our Wedding Officiant, you both, and your Guests. Of Course, we can also entertain your Outdoor Ceremony options if your Guest Count is higher than allowed in our packages designed for Indoor Ceremonies; please call us for more information on how we are turning Wedding Dreams into Bliss!
Oh & Thank You for your patience while our Web Designer uploads our new Destination Wedding Chapel in Nashville Location photos! Many are current; please visit our Instagram or Facebook Page for photos of our new Rhinestone Wedding Chapel! The Rhinestone Wedding Chapel gives our Nashville Bride & Groom a Wedding Day experience by offering a variety of Traditional & Elvis Wedding Packages that include Intimate Weddings & lovely Receptions in a gorgeous setting at very affordable prices! We work hard to ensure that you both will remember your Wedding fondly with your Wedding Guests or even if you choose to elope at our Destination Wedding Chapel in Nashville, Tennessee, Music City, USA!
Our new Nashville Wedding Chapel location is centrally located! Only 15 minutes from Downtown Broadway, the Opryland Hotel, and just 5 minutes from our International Airport! While there are new time constraints thanks to the pandemic, there are still so many opportunities to enjoy Nashville, surrounding cities, and the Great State of Tennessee! Let us show off our Southern Charm and Hospitality! Tie the Knot Traditionally, or Elvis, or have your unique Destination Wedding Vow Renewal in a Stunning Wedding Setting with your preferred Amenities at a fraction of the costs of the larger Nashville Wedding Venues!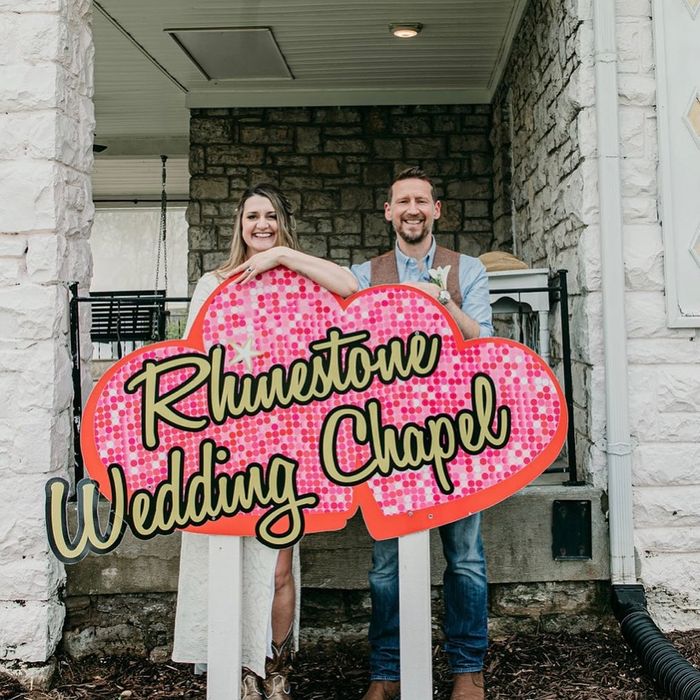 Your Destination Wedding Chapel in Nashville
All the Frills & Thrills with Affordability for Future Nashville Bride & Grooms!
The Rhinestone Wedding Chapel is your Destination Wedding Chapel in Nashville and makes Getting Married in Music City so easy, affordable & amazing for our Bride & Grooms from all over the world! Just a fifteen-minute drive to Downtown Nashville, the Gulch, and proximity to every Tourist Attraction in town, featuring Christian Traditional Ceremonies, Elvis Weddings & Marriage Vow Renewals with a focus on affordable Wedding Packages in a pretty Wedding Setting. Do you want to add amenities just like the large "price tag" Nashville Wedding Venues offer? We have Wedding Cake Packages, Wedding Photography, and so much more right here at The Rhinestone Wedding Chapel! And once you book your Wedding or Vow Renewal here, we will help you with hotel suggestions, guide you on getting your Tennessee Marriage License (it's so easy, we promise!) and everything you wish to know from fine dining to tourist attractions & more!
The Holidays are a perfect time to have your Wedding Celebration here if you are planning a trip to Nashville for Thanksgiving, Christmas, New Year's Eve & New Year's Day, or Valentine's Day! We take the challenge out of planning your Wedding at our Nashville Wedding Venue with our all-inclusive Wedding Packages depending on your choice of Traditional or Elvis and if you would like to include Amenities or just the basics! Please click on our Wedding Tips link for Specials, Information & Suggestions & Thank You for visiting us here at The Rhinestone Wedding Chapel; we hope we see you both in person soon! We would love to help you plan your Nashville Wedding in Music City, Nashville, Tennessee!
Please call us at 615-596-8100 to check availability and to book your Elvis Wedding or Traditional Ceremony. You may also complete our Information Request Form below for the availability of up to three preferred Wedding Dates. Please don't hesitate to call us for additional availability or if we can answer any questions you may have!
Thank You for Considering The Rhinestone Wedding Chapel!
Contact
Thank you both for visiting The Rhinestone Wedding Chapel! We are glad to help you plan your Traditional Ceremony or Elvis Wedding, and we look forward to hearing from you soon! We are glad to provide Availability for your Perfect Wedding Day by email! Please call us for more than three dates or if you have any additional questions besides Availability. We look forward to hearing from you!